GMK 3Ply Disposable Face Mask ( medical grade Non-sterile )
$22.99
Product Description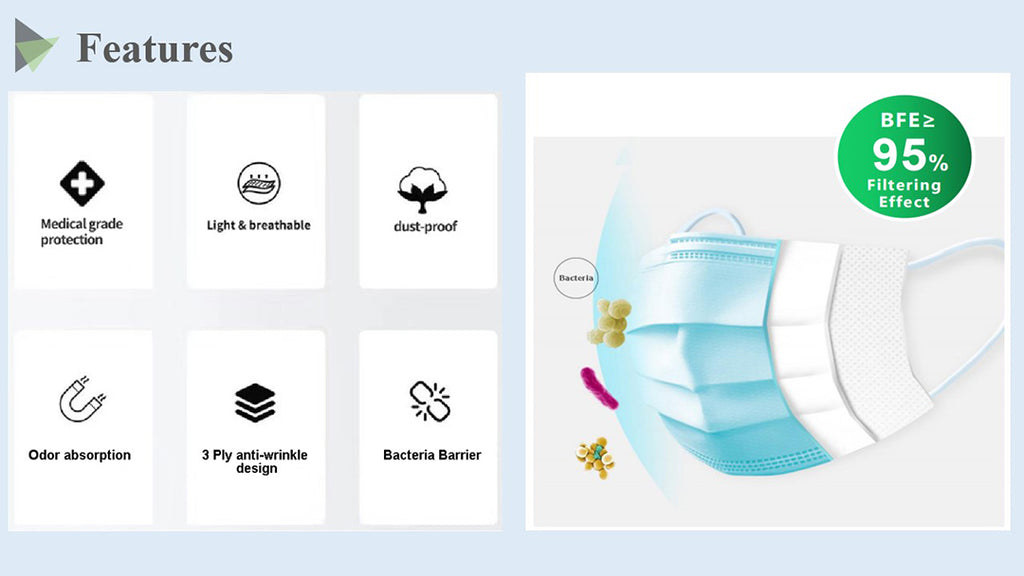 About the product:

ONE SIZE FITS MOST : Size - 17. 5x9 5cm. We are pleased to say that our face masks are suitable for adults and children making them ideal to keep in your home in case of an emergency. 
Three Layers : Filter air to ensure healthy respiration, Keep your mouth covered and protected from pollution, chemicals, germs. 
How to Use: 
1)Stretch and unfold the mask to fit the face;  
2) Put the ear band behind the ear;  
3) Press and fix the nose clip along the nose shape according to personal characteristics. 

Widely Applications: Wear it everywhere you need such as in the office, at home, in a beauty salon, and simply outside of your house. 
Certificate
Production Invironment
450+ sqm Class 100,000( medical grade) dust-free workshop, built by ICU clean room construction company of Huoshenshan Hospital, where received and treated patients with coronovirus infection during the outbreak in Wuhan city, so all the masks are produced by auto-production equippments with quality assured.  
To our customers and visitors, 
There's been a great shortage of protective supplies since the coronavirus outbreak, causing a great impact on our economy since it has delayed workers from returning to work. 
In order to follow our government's lead and make sure all companies can back to work normal with necessary protection, we have invested on auto-production equippment and set up over 450sqm class 100,000 dust-free workshop to produce disposable medical face mask & disposable face mask to meet the domestic demands. With the further spead of coronovirus globally, we understand your fear and concern since we have experienced what you are experiencing right now. We must take necessary protections to stay safe, wear face mask if you need to get in contact with people, wash your hands more often and no touching on your face. 
The main purpose of a disposable face masks with 3 layer is to keep out the moisture of the sneeze or cough of an infected person from reaching your mouth or nose,  also help avoid infectious transfers from hand to mouth, as you can't reach your own mouth directly while wearing one. Wearing one can shield you from getting sick if you are in close contact with someone who is ill and can help prevent you from transmitting the disease to anyone else, as wearing them around sick patients is common practice in medical professions.
So if in need, you can purchase face mask from our website while supply still lasts. Wish all of us safe! 
Precautions:
Package damage is strictly use prohibited, used within validity.
This product is one-time use, disposed after use. Production date & validity is printed on inner bag.
 Contraindications: Caution for those who are allergic to non-woven fabrics.
 Storage conditions:
Store in a well-ventilated room with relative humidity not exceeding 80% and no corrosive gas.
 Use disposal: The used products should be treated as medical waste to prevent environmental pollution caused by bacteria.
One-time use
Do not use when the package is broken
Dear customers,

Given that face mask is in urgent need during the coronovirus outbreak and we've worked with DHL/USPS to help expedite the shipping. We can only set a shipping method and cost for a specific location, so we can't be able to display different methods and costs to you during checkout, so if you like to receive your order faster, pls add this link to your cart and pay for the rest to qualify expedited shipping.
And pls understand, we have to limit to 100pcs per order for safer shipping. 
Wish all of us safe! 
Customer Review
---